Yes, this is the first post in ages; yes, there has been so much to update and yes, I have to start somewhere.
So today I landed in the Edinburgh Festival Fringe, to give its full official title, as part of Pepper Productions' team Antling. After a successful run in the Brighton Fringe Festival and Hove Grown Festival this year, we opened tonight at the largest Fringe Festival in the world, and Helen Pepper Smith was brilliant. As time has gone on it has enriched and deepened and even now having seen it probably 50 times (at least) I'm still laughing and being moved by the poignancy of the story and the performance.
But I'm starting at the end of the day instead of the beginning! The taxi to the station this morning, booked last week for 5.15 this morning still hadn't arrived by 5.25 despite me phoning them in a panic, they seemed completely disinterested in my urgency to get to the train that I had a prebooked ticket for… then I tried to go through security at the wrong terminal of Gatwick (I blame the illegal time of the morning and the complete adrenalin surge of the taxi situation including being thrown around the car despite the seatbelt in the driver's attempt to get me to my train on time) – I had to look no further for the third thing to go awry when I got to Gatwick and realised none (none!) of the departure boards were working, showing gate numbers etc., but instead there were handwritten white boards with this information on and everyone crowding round those at least 5 people deep (not good for – ahem – average height people like me).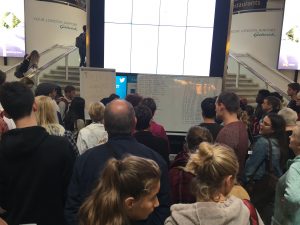 But with a shrug of "it is what it is", onwards and flightwards. I had intended to read my book on the flight but ended up talking to the person next to me: Matt, who works for the airline (EasyJet) and loves it and was hoping to have a career in musical theatre at one time – needless to say we chatted 19 to the dozen for the whole flight time which was brilliant. Lovely guy. I left my water in my bag (firmly deposited in the overhead locker and therefore inaccessible) which I just mentioned in passing so he got a bottle of water for me from the cabin crew which was so thoughtful. We talked theatre and the industry and directing and flying – I love interesting conversations with random strangers I really do.
Later in the day Helen (the fabulous Helen Pepper Smith, creator of Antling and founder of Pepper Productions) and I found the Royal Mile: the heart of the Fringe here in Edinburgh. And this area assails at best assaults at worst all of your senses at the same time. Bustling crowds, people giving fliers to you and promoting their shows in sometimes the most inventive way possible – for example 3 men all dressed as Lady Bracknell (including wigs) advertising "The Importance of Being Earnest" (assume a slightly different version); various incredible 'statues' including one in black and white on a bicycle in the wind; music: from rock to bagpipes, from a banjo to opera; a man in a tail coat 'clowning' and making passers by shriek with his often startling interactions.
So here we are. We have arrived.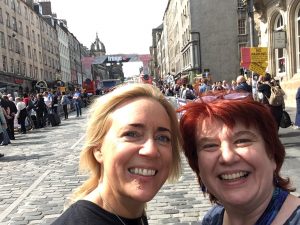 Of course there have been a few (other) odd things. To add to the fairground taxi ride and the weird makeshift Gatwick departure boards. Including cups of tea, served with pot, cups & saucers, milk jug, sugar… and a straw. Maybe we looked like we had a sensitivity to heat..?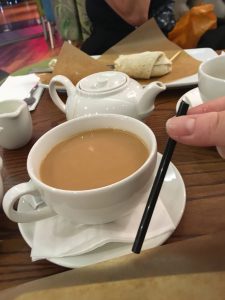 Helen was fabulous in the opening of Antling this evening which is great but timings are tight. We have 60 minutes in total which means 5 minutes either side in and out so trying to curtail the brilliant creation into 50 minutes is tricky – there really isn't any fat, it's all really good and deserves a place there. But it is what it is…
After that we sought some light hearted comedy which is what we got with "Three's Company, Where's Our Crowd? An improvised comedy night". Lots of laugh out loud moments. And even better as we got in with our performance passes so it cost us nothing. Sometimes you just need a bit of silly.
So with the motto of the day "It is what it is", I look forward to what tomorrow will bring, including 2 shows that I'm reviewing, having collected my official (and very bright orange) press pass from the Fringe Hub earlier (having tried to find it for a good few hours). Such a joy to get to see shows and review them: see a show and write about it? Yes please
With EasyJet as well it's been a bright orange day.
Here's to orange.