Trying to schedule everything in this crazy Fringe bubble is tricky – well actually it's impossible. I couldn't see everything I want to see.
Helen and I went to see "Sisterhood": a 3 hander, one was the fabulous Jules Craig. Set in Tudor times, 3 very different women through a few hours contemplating the same fate that awaits them all, interspersed with true tales of their own modern lives. It affected us so profoundly we had to go and sit and have a cup of tea afterwards. It's so incredibly sad that in some ways things are very different but in others: attitudes towards women who "go their own way", attitudes to women as objects – not much has changed. So moving, lump in throat trying to hold on to tears and gulping. One that will haunt me. And I'm glad about that.
Then I navigated the mad mile to get to the Box Office for my ticket for "a joke". Which was so very far away in a completely different part of town. Didn't look that far away on the map… so this was a play in the Assembly Rooms Ballroom – and yes it was a ballroom. With chandeliers.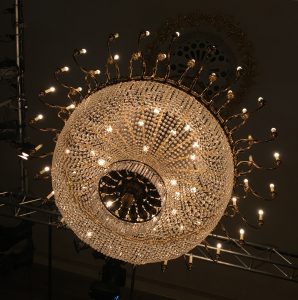 "a joke" was with famous actors, one Robert Picardo who I remember as the cantankerous doctor from Star Trek Voyager and then Star Trek films. Also Sylvester McCoy. So I saw a play with a member of the Star Trek cast and a previous Dr Who – or 2 doctors, actually. It was a brilliant production. And so much so say about life. It was such a multi layered play it reminded me of "Waiting for Godot" in that at first, you leave the theatre and wonder what the hell you've just seen and what it was about. Is life a joke, with a punchline, or s story and in that case tragic in places? And many many other questions and musings. "Sing and the music will come" is a mantra that will stay with me. Which is pretty much how I live most of my life.
Then I bumped into Robert Picardo in the foyer and had a picture with him, he was just heading out the door but he waited which was nice. Must be a bug bear to live 'normal' life and be famous. But hey! Here we are!
So I was round the corner from "The Ivy" which had been advertised on Facebook so I thought I'd give it a go, especially as it was chucking it down. I only wanted a snack. I thought it was a café. Turns out it's uber posh, there's me in my hoodie and backpack. I had some beautiful messages from friends on Facebook when I posted that, made me feel like a million.
Blackened cod. Rosemary lemonade. Then a cranachan (we are in Edinburgh after all) with white chocolate. Which came looking like a little globe, then the waitress poured hot whisky sauce on it and the white chocolate melted, missing with the icecream , raspberries and everything else inside. Oh my god it was so lush. I've only seen that presentation on Masterchef, it was so great to experience it.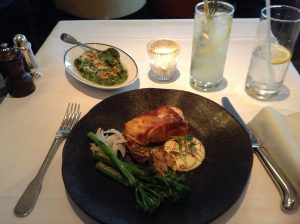 I walked chuffing miles on Friday – the play was miles over the other side of the city! Nice to get around a little bit!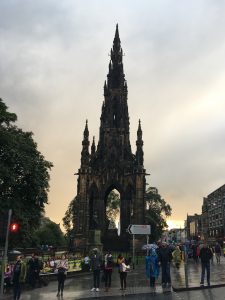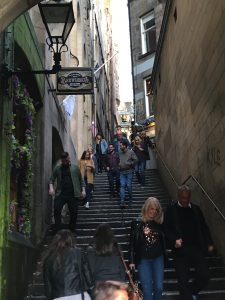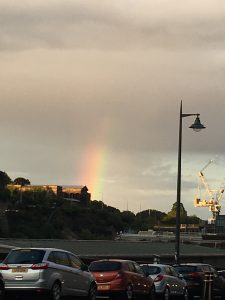 Antling was brilliant of course. After that we went to Bristo Square (we love it there) and got flyered by a New Zealand woman in a 50's dress for a comedy show "Ladylike". But I think that actually happened on Thursday… Antling had a crowd in that laughed on Friday evening which was fabulous. One guy who is also performing at the Fringe talked to Helen after and we went for a drink – or rather he took Helen for a drink and I toddled behind very much like the third wheel. Made me smile. We ended up in a private bar though talking to the owner and the members of the cast and crew (and the son and daughter of the writer) which was really lovely, hobnobbing with professional actors and everything…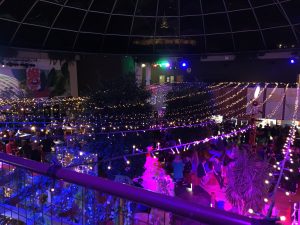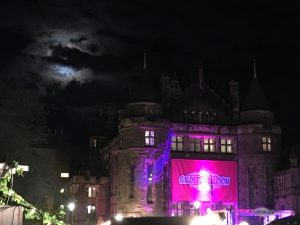 Saturday. 2 Michael Morpugo plays. You can take the girl out of – oh who am I kidding. I'm just interested in history, especially in the first and second world wars. So we went to see "An Elephant in the Garden": a one woman show which was so brilliant. I loved it. Especially her body movements of the elephant – so clever. Then "Private Peaceful", a one man show which was an incredibly powerful performance, standing ovation at the end. That made everyone gulp and tears were free.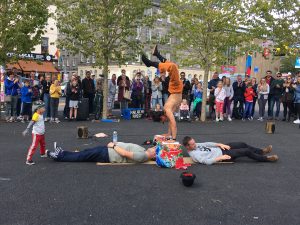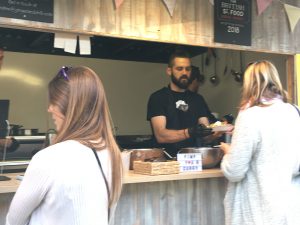 I walked past a stereotype on the Royal Mile:
My last Fringe show I went and found the Sweet Venues and bumped into the lovely JD and had a quick catch up. Unfortunately, my last show of the Fringe, something I was reviewing, was the worst thing I've ever seen. I had not thought I could ever give a 1 star. I was wrong. It was just the most hideous puerile crap I've ever had the misfortune of having to sit through. One person got up and left. I was jealous.
This was in yet another different part of the city and what a beautiful place it is.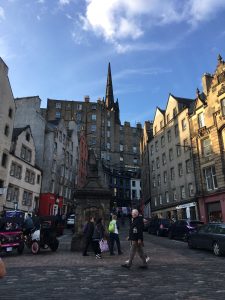 The last night of Antling. What a crazy adventure we've had. We met Elaine (who taught at ACT) who came to see it and then 4 of us then 3 of us went for a drink at Bristo Square again. We ended up standing bopping to the strangest eclectic mix of music ever.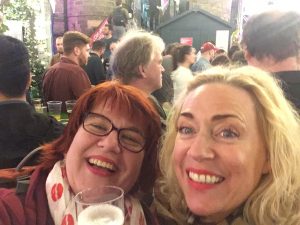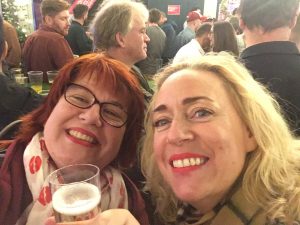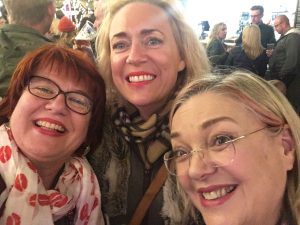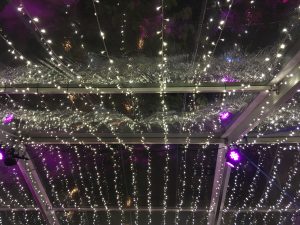 This morning we went for lovely breakfast – veggie haggis! – at Spoon before heading off separate ways.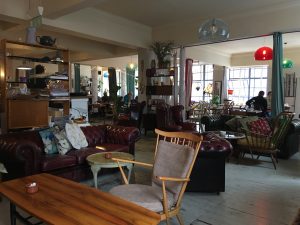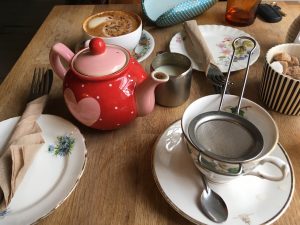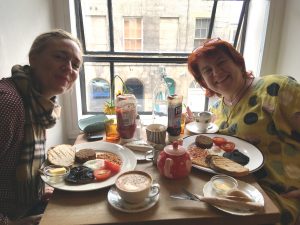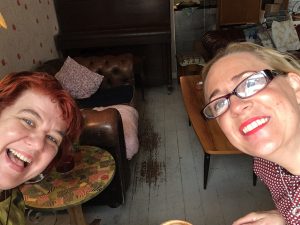 Thank you Edinburgh. I love you.