What a couple of weeks!
We are mid way through the run for my play "The Session" with Twilight Theatre. Audiences have loved it and given brilliant feedback.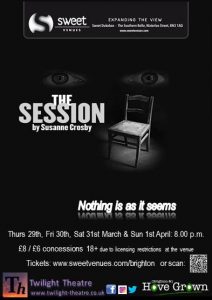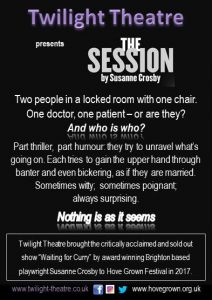 Audience feedback so far:
"Loved it!"
"fantastic… so much so that I'm going again tonight"
"Great play"
"Loved it, very tense… wonderful writing"
"fab night"
"Excellent"
"What an amazing, fantastic performance! A brilliantly written script and a very very talented cast. The venue really lends itself to this play and you are completely drawn in to everything happening on the stage. This is an absolute Must-See for everyone, I guarantee you will be glad you did."
"I watched this little gem last night. It gets the old grey matter thinking. One not to miss. Written by the amazing Suse Crosby"
James Roy, from Meridian FM: "Wow. Cleverly written, brilliantly performed. "The Session" at the lovely intimate Sweet Dukebox Theatre. Get fully immersed in the action whilst trying to work out who is the Doctor and who is the Patient!"
Still some tickets left – do come along!
Antling
And just before "The Session" opened, "Antling" written and performed by the amazing Helen Pepper Smith and directed by yours truly premiered, also as part of Hove Grown Festival.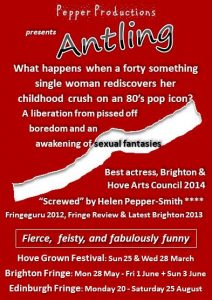 Don't worry if you missed it – this fabulous show will be back in the Brighton Fringe Festival, and in the Edinburgh Fringe too!
Disappeared
And if that wasn't enough – next week I'll be performing in the Wick Theatre's production of "Disappeared". This has a fabulous cast and a great crew, led by director Guy Steddon.
The character I play has been challenging, because she's really not very nice at all. When I saw myself in the publicity photos I was astonished I could look so – well – vile! Still some tickets left, runs 4 – 7 April.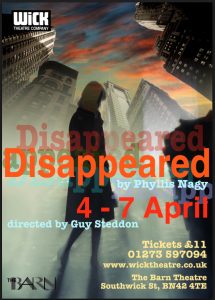 See you soon, Suse